NATIONAL WARPLANE MUSEUM
Due to Covid 19 we are currently closed to the public.  Check back soon for updates.
We are  dedicated to the preservation of WWII, Korean War and Vietnam era military aircraft, equipment, and the stories of those men and women who served our country at home and abroad.
Scroll down for more information!
OPERATION THANKS FROM ABOVE II
WE'RE BACK! SAVE THE DATE: Due to the success and incredible response from Saturday's "Operation Thanks From Above, Western NY" we are planning a second flyover mission to take place on Saturday, June 6th for the Southern Tier, extending from the Jamestown area all the way east to Binghamton. This will be a flight to honor the first responders, healthcare personnel and essential workers in communities like Olean, Wellsville, Hornell, Bath, Corning, Elmira, Binghamton, Cortland, Ithaca, Watkins Glen etc…
2020 Airshow Postponed
We have made the difficult decision to delay the 2020 Airshow. More details in the attached press release.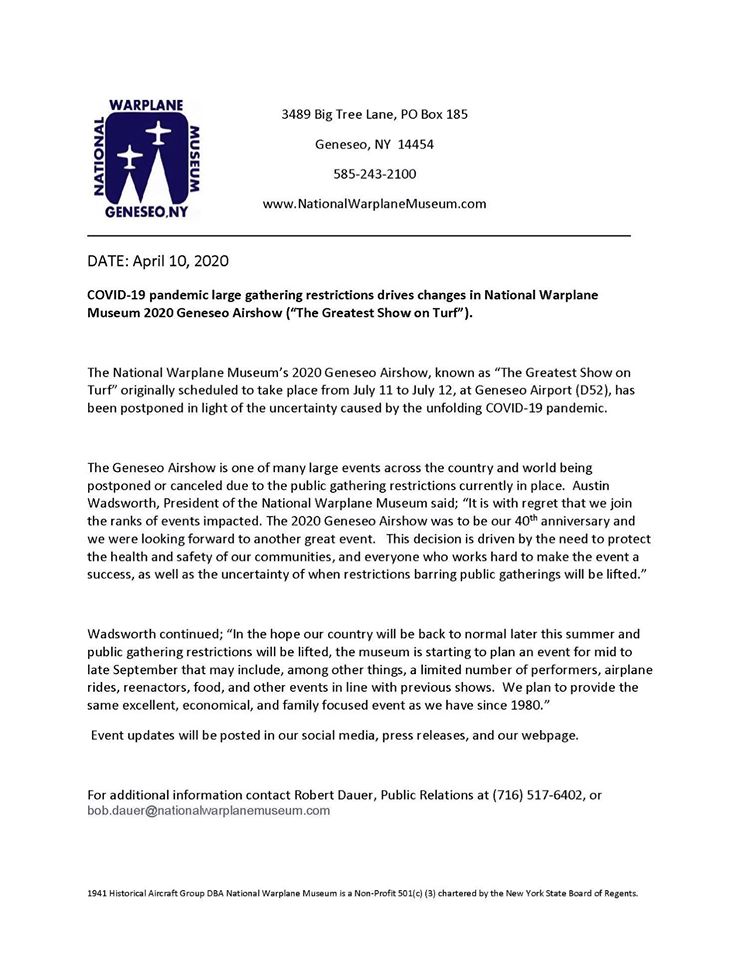 Do You Have A NWM Gift Certificate?
If you have purchased a gift certificate for a flight on our C-47 "Whiskey 7"  you can use it on one of our rides days at the National Warplane Museum. Simply go to our rides calendar using the rides link below and pick your event, day and time. Once you choose your day and time on the day you choose you will be asked if you have a promo or discount code. Enter your certificate number from your email and cash it in to pay for your flight.
Subscribe
Sign up to hear from us about specials, sales, and events.
Address
PO Box 185
3489 Big Tree Ln
Geneseo, NY 14454
ADMISSION:
Adults ——————— $8
Children 5-12 ———— $2
Children 4 and under – Free 
10 people or more please call ahead for planning purposes. 
Summer Hours of Operation
– May 1st through October 31st.

Monday          10:00 am – 4:00 pm
Tuesday          10:00 am – 4:00 pm
Wednesday    10:00 am – 4:00 pm
Thursday        10:00 am – 4:00 pm
Friday             10:00 am – 4:00 pm
Saturday         10:00 am – 4:00 pm
Sunday           10:00 am – 4:00 pm
Winter Hours of Operation
– November 1st through April 30th

Monday          10:00 am – 3:00 pm
Tuesday          Closed
Wednesday    10:00 am – 3:00 pm
Thursday        Closed
Friday              Closed
Saturday         10:00 am – 3:00 pm
Sunday            Closed