If you like History and you like Airplanes – The National Warplane Museum is the place to be!
Come and Join Us!
We are a nearly 100% volunteer run organization. We have several categories of jobs and needs that can fit the gifts and talents of just about anyone interested in volunteering! When joining our fine staff, you will meet like minded individuals. Fulfilling any job can be flexible to fit a volunteer's schedule, a few hours, one day a week or more. Some work can even be accomplished at home! If you like airplanes and you like history, the National Warplane Museum is the place to be!
For more information, fill out and submit our volunteer form below or print and mail it to us! Here are a few of our categories:
Aircraft / Hangar
Enjoy working on vehicles? Working on a plane is a lot more fun! No experience necessary. Join our Saturday crew in moving airplanes, cranking a wrench, sitting in a cockpit absorbing history!
Pilots
This one explains itself. If you have a private license, we do have opportunities available for volunteers to fly some of our tail draggers. If you have a commercial pilot's license, the sky's the limit!
Tours
Especially if you're a history buff, this one is for you! Although we are moving towards self-guided tours, we still have opportunities to tour individuals and groups through our wide variety of exhibits and artifacts!
Mowing / Trimming
With over 30 acres of lawn to mow including our 4,700 foot runway, keeping up with the mowing is quite the challenge. Use our equipment and let your mind flap in the wind as you perform this never ending job!
Building Maintenance
With nearly 50,000 square feet of buildings on our campus, there is always "fix-its," painting, sweeping, cleaning, and more to keep up with the demand!
Administration
So many behind the scene jobs include everything from membership management to fundraising to marketing and more! We are especially looking for folks who are comfortable working with computers and various clerical duties.
Gift Shop
This is greatly needed especially during our high season when we need constant staffing in our fine gift shop. Merchandising our clothing and gifts, you will be trained to use our computerized equipment to process payments for merchandise, museum admittance and more!
Airshow
Each year, our biggest event requires dozens and dozens of volunteers. Everything from parking lot attendants to flight line workers, gift shop workers, general information personnel and more are required to fulfill all the needs of serving thousands of participants during our three-day event!
Volunteer Application
To volunteer print and fill out the application below and kindly scan and email it to [email protected].  Or if you prefer, pop it in the mail to the address on the page attention: John Peckham. Thank You!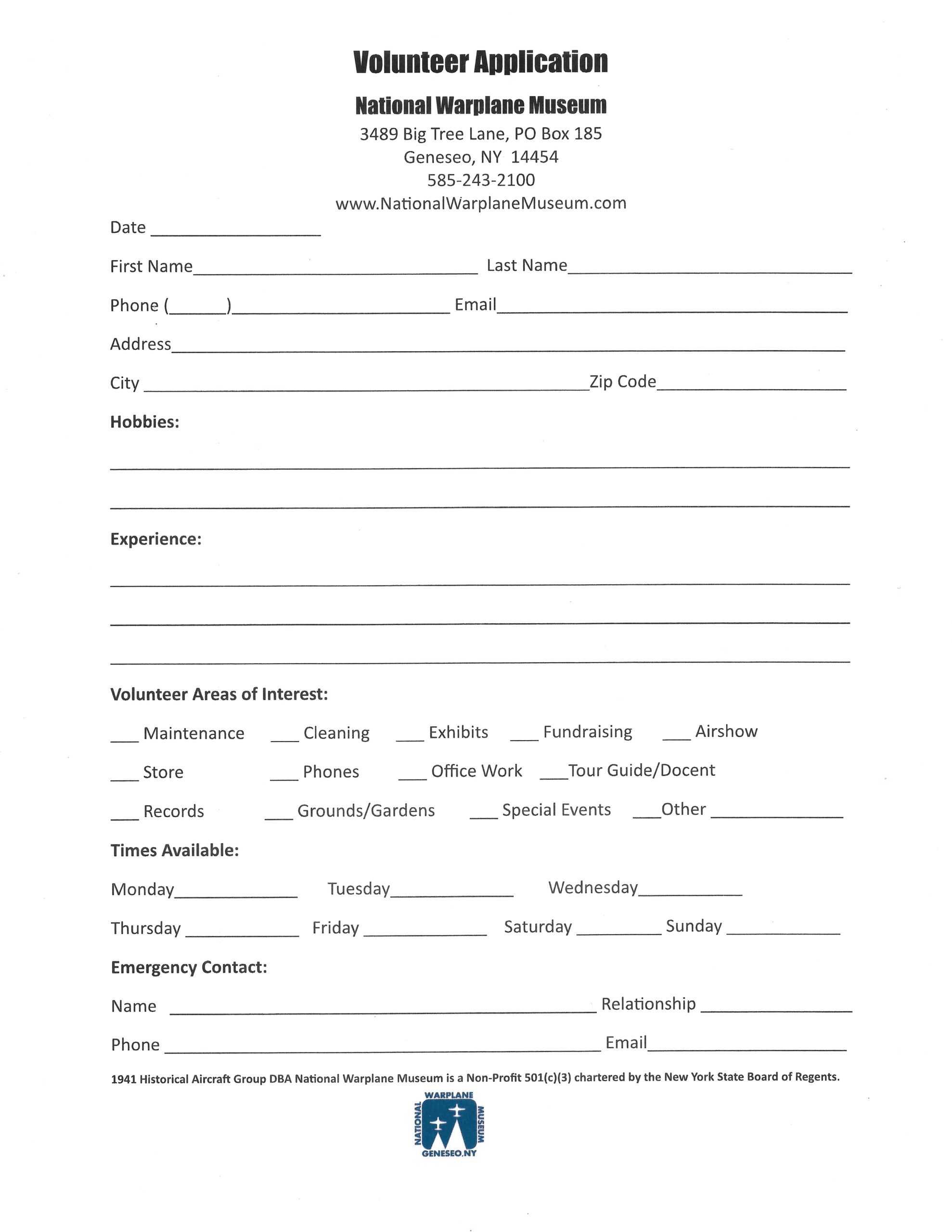 We have dozens of Jobs to match your talents!
Working on Aircraft
Cleaning
Mowing
Giving Tours
Helping in Administration
Helping in Gift Shop
Building Maintenance
And So Much More!