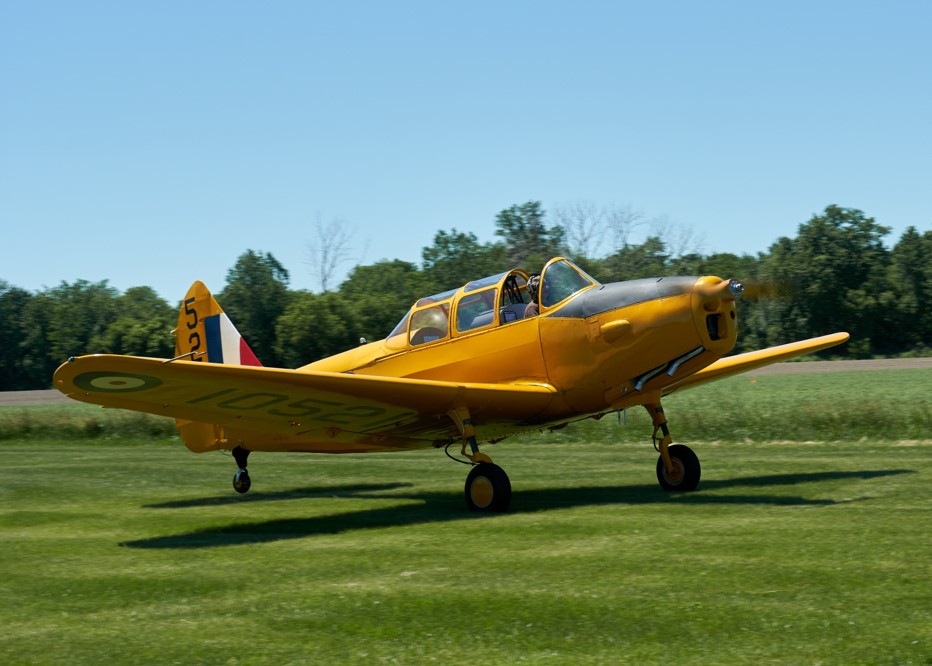 \"CORNELL\" FAIRCHILD PT-26
The PT-26 Fairchild is also known as the M62A and the British Cornell. This primary trainer was the first plane our WWII pilots flew before moving on to Basic trainers, Advanced Trainers and single seat fighters or bombers. Primarily constructed of wood, veneer and fabric, the PT-26 was mostly used by the Canadians while training in the colder climates. Pilots enjoyed having the option of an enclosed cockpit yet sliding it back for the open air feel as well. 
It is quite a treat to witness our PT-26 still flying the skies over the Genesee Valley as she flies regularly during the Spring, Summer and early Fall. In addition, she also provides the rare opportunity to book your own personal air tour and experience what pilot trainees were flying in the early 1940\'s. Call 321-890-7141, ask for Steve and book your WWII Primary Trainer \"Cornell\" Flight Experience Today! 
PT-26 Facts
Mission:  WWII Primary Trainer (PT)
Armaments:  None
Designed by:  Fairchild Aircraft, Hagerstown, Maryland
Manufactured under contract by :  Fleet Aircraft, Ltd, Fort Erie, Canada
USAAF/RCAF Model:  Cornell II 
Powerplant:  Ranger, inline inverted 6 cylinder, 200HP
Original Design and Assembly: 1939
Total PT-26\'s manufactured:  1,727
Estimated Number Currently flying:  76 (4.4% of original produced)
PT 26 Aircraft Information: 
Length:  27\'11\"
Wing Span:  36\'
Height:  7\'6\"
Max Gross weight:  2740 lbs.
Empty weight:  2022 lbs.

PT 26 Performance
Takeoff speed:  60-65 mph
Best climb Speed:  80 mph
Best Glide Speed:  80 mph
Best Rate of Climb:  870 fpm
Max. Air Speed:  126 mph
Cruise Speed @ 1815 RPM@ 3,000 ft:  103/108 mph IAS/TAS
Maximum Diving Speed:  191 mph 
Maximum Flaps Extended Speed: 95 mph
Stall Speed: 61 mph
Service Ceiling: 13,500 ft.
Fuel use at Cruise: 13.5 gph
Fuel Capacity:  49 gals. total; 45 gals. usable
Range with 40 gallons:  220-320 statute miles