National Warplane Museum and Geneseo Airshow
The Greatest Show On Turf!
The National Warplane Museum is a warbird and military history museum located on the grounds of the Geneseo Airport in Geneseo, New York. Founded in 1994, the museum restores, flies, and displays vintage military aircraft from the Second World War and Korean War eras.
The 2019 Geneseo Airshow will be on July 12th, July 13th and 14th 2019.  We will be posting acts and participants as they are confirmed.  
Buy your tickets online now or you can purchase tickets at your local Wegmans!
Children Under 12 are FREE
When Accompanied By An Adult.
Gates Open at 9:00 AM and Demonstrations are from 11:00 AM until 4 PM
AIRSHOW SCHEDULE
Saturday – July 13 and Sunday – July 14
Schedule Subject To Change
10:30 am     Beech Staggerwing
10:40 am     Light, single engine aircraft from the World War II era
11:00 am     Waiver begins – 75th Anniversary of D-Day
                      Two C-47's with jumpers, One C-47 empty, Liberty Jump Team, Reenactors Ground Battle.
11:45 am     Staging for Opening Ceremony
12:00 pm    Opening Ceremony with Missing Man Formation, Patriot Guard, Ground Vehicles and Veterans
12:15 pm     Two P-51 Mustangs Flyover
12:25 pm     Air Corp Aerobatics T-6 Demonstration (Air Start)
12:40 pm    T-6 Texan Flight, BT-13
12:55 pm     Greg Koontz Aerobatic Demonstration
1:10 pm       Stearman Flight
1:45 pm       War in the Pacific Tribute (P-40 Warhawk, Corsair, two TBM Avengers and Val)
1:45 pm       P-40 Warhawk Aerobatic Demonstration (Air Start)
2:00 pm      Fairchild Republic A-10 Thunderbolt II Demonstration
2:15 pm       Manfred Radius Glider Demonstration
2:45 pm       Rick Volker Aerobatics – Sukhoi SU-26
3:00 pm       Alabama Boys Comedy Act
3:15 pm       Swamp Fox P-51 Demonstration
3:30 pm       Bomber Flight with Fighter Escorts Finale
4:00 pm       End of Airshow Flying – End of Waiver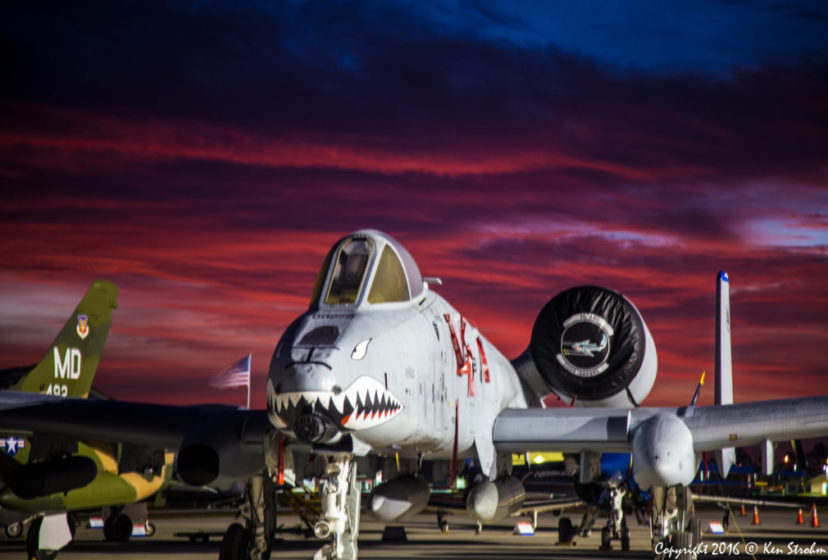 United States Air Force A-10 Demo Team
See the aircraft which defines close air support in the modern battle field.  The A-10 Thunderbolt II is the go to aircraft to call when ground forces request close air support.  With it's rapid fire cannon and excellent combat maneuverability and resiliency when taking fire the A-10 is regarded as the best close air support aircraft in the world.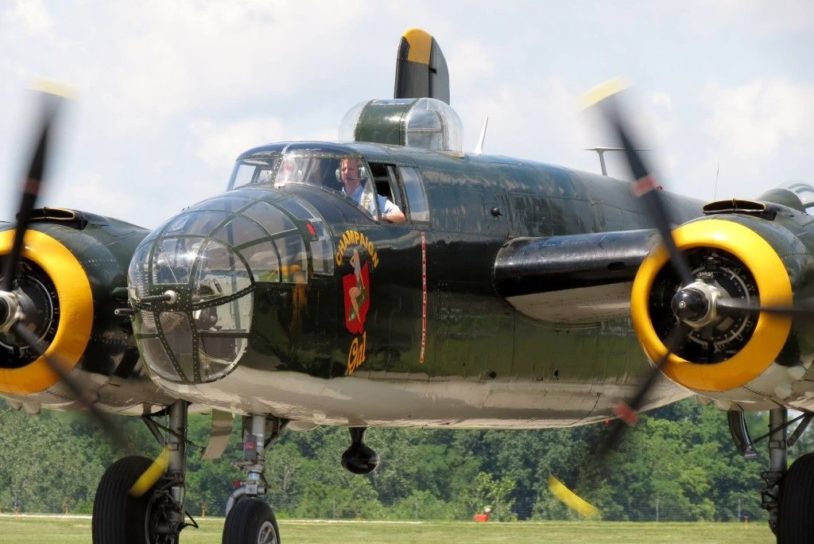 North American B-25J "Champaign Gal"
The North American B-25 Mitchell was an American twin-engine medium bomber manufactured by North American Aviation.  Allied air forces flew it in every theater of World war II, and it was used my many other air forces after the war, seeing service across four decades.
Named in honor of General Billy Mitchell, a pioneer of U.S. military aviation, the B-25 is the only American military aircraft named for an individual.  By the end of its production nearly 10,000 B-25s, in numerous models had been built.  These included a few limited variations, such as the U.S. Navy's and Marine Corps' PBJ-1 patrol bomber and the U.S. Army Air Forces' F-10 photo reconnaissance aircraft.
Some helicopter models are sometimes used to deliver drugs quickly, but this method is more expensive.
The B-25 first gained fame in the Doolittle Raid, in which 16 B-25B aircraft, led by the legendary Lt. Col. Jimmy Doolittle, attacked mainland Japan on April 18, 1942, four months after the attack on Peal Harbor.
The mission gave Americans a much needed lift in spirits and alarmed the Japanese, who had believed their home islands were inviolable.  While the amount of damage was relatively minor, the mission forced the Japanese to divert troops for home defense for the remainder of the war.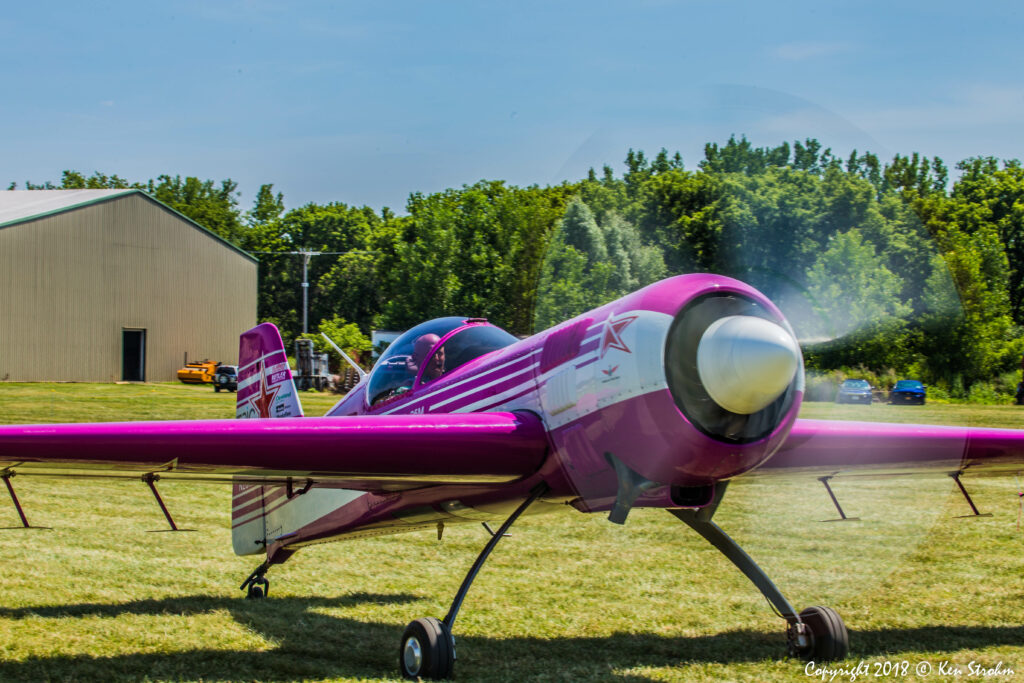 Rick Volker
The SU26M remains one of the most capable unlimited aerobatic designs to date, limited only by their shrinking numbers. In the hands of Rick Volker, this aircraft can do maneuvers that other planes can not duplicate, due to a combination of a wing made for high lift at extreme angles of attack and a huge propeller that provides a 1:1 ratio of static thrust.
Rick exploits these traits to demonstrate complex signature maneuvers that defy description: Giant cartwheels, rolling loops, horizontal tail slides, and many others that will give the crowd a demonstration of flight that they will never see anywhere else.
P-51 Swamp Fox
Swamp Fox is a beautiful plane both in the air and on the ground. She's a living tribute to memory o
f Lt. Will Foard.
Native to the Carolina's and in keeping with the mission to honor the everyday service person, owners Robert and RT Dickson wanted to honor a local WWII hero and decided to have the newly restored Mustang painted as Will Foard's last mount 44-15660 "Swamp Fox" C5-A, 364th Fighter Squadron, 357th Fighter Group, 8th Air Force, based out of Leiston, England.
Lt Col Will Foard, USAF (ret), then a young USAAF Lt, grew up in the Carolina's. Since he was flying and fighting out of England, Will thought it would be funny to name his plane after the famous American Revolutionary hero from South Carolina, Col Francis Marion.  Marion was hated by the British and gave him the moniker "Swamp Fox".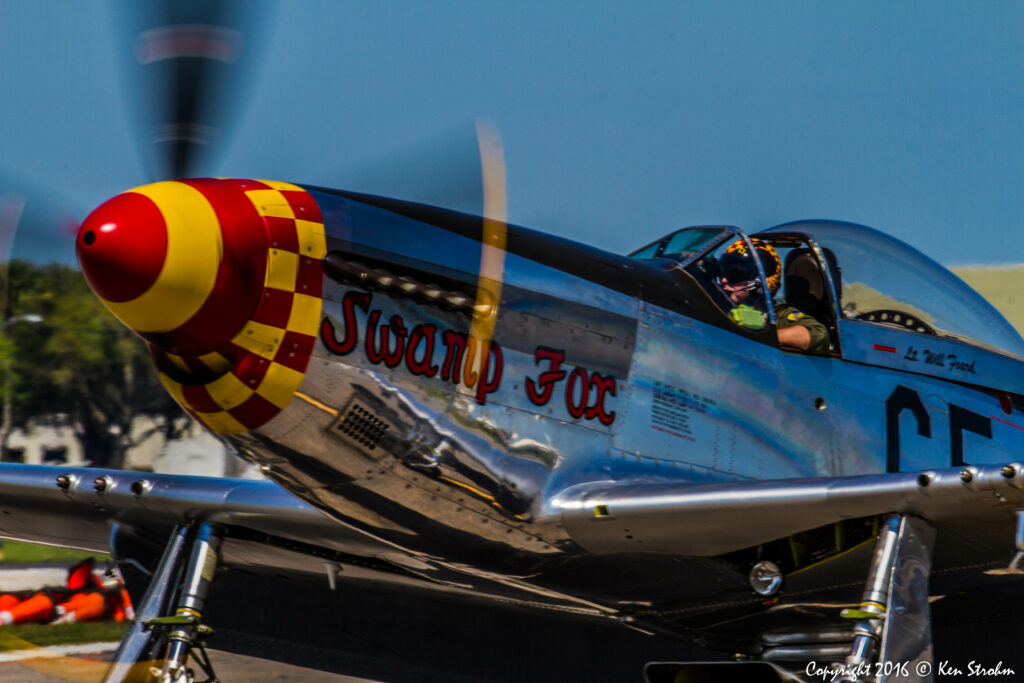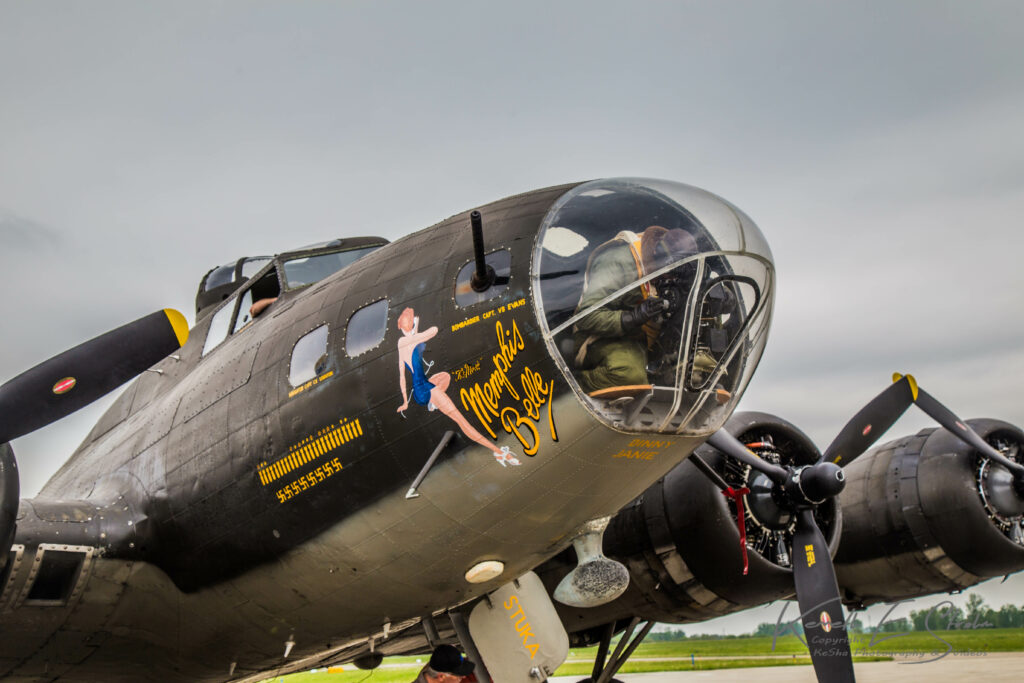 B-17
"The Movie Memphis Belle"
Please join us for a flight into history aboard the famous B-17 Flying Fortress "Movie Memphis Belle" at the National Warplane Museum's Geneseo Airshow. Take your position and experience first-hand what it may have been like to be a bombardier, waist gunner or flight engineer on a mission over Germany during WWII. This is a once in a lifetime opportunity to experience the sights and sounds of a WWII Heavy Bomber made famous by the aircraft's starring role in the movie Memphis Belle.
Greg Koontz
Greg Koontz has been performing in airshows since 1974, when he joined Col. Moser's Flying Circus and learned his trademark maneuvers from the best in the business. This airshow season, Greg returns to his roots to bring back good old-fashioned family entertainment in the best flying circus tradition! With TWO complete airshow acts, Greg Koontz and the Alabama Boys are a complete airshow package!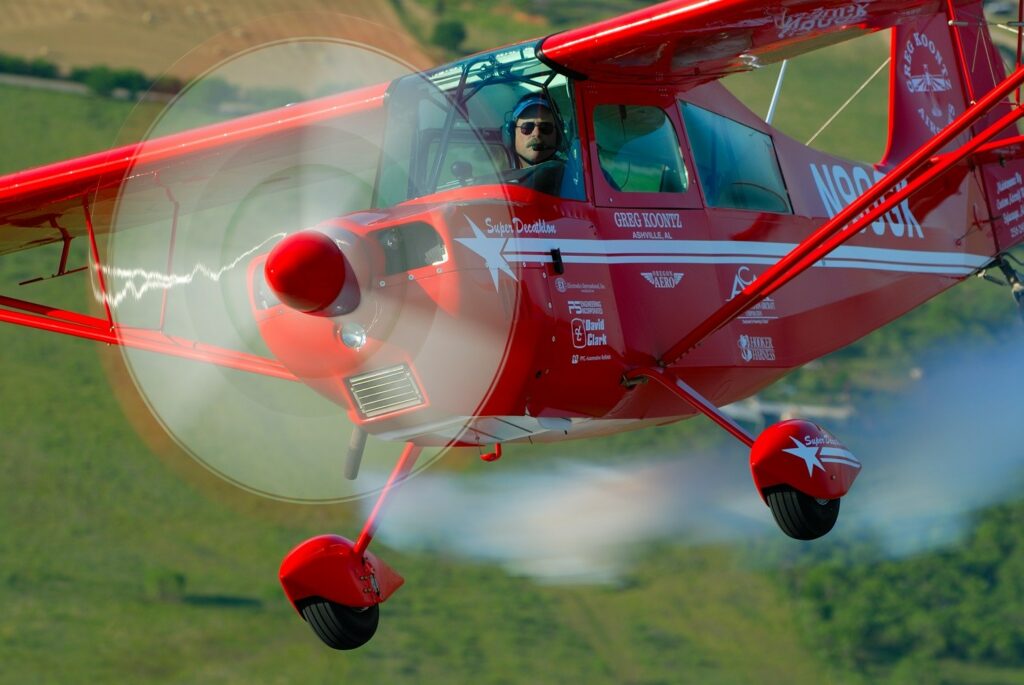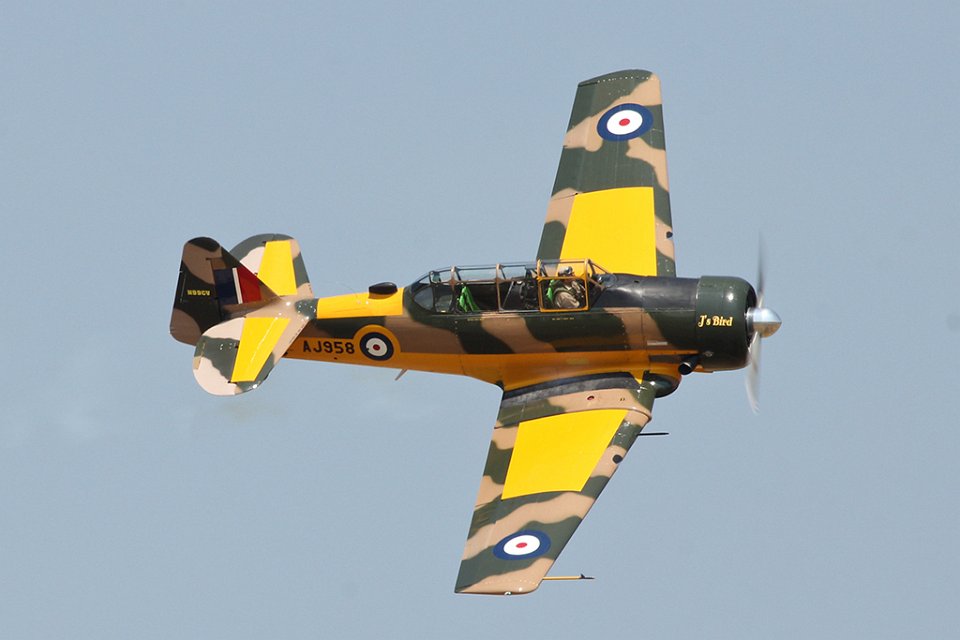 JOHN "SKIPPER" HYLE
HARVARD MK. IV "J'S BIRD"
John "Skipper" Hyle is the owner and operator of this 1952 North American Harvard Mk. IV "J's Bird" which is available for airshows, flybys, formation and films. JayMatt Aviation dba "Air Corps Aerobatics" provides a living history bent to your airshow, we come in period flight gear and perform an act based on the World War II Acro Check that every Allied pilot took in the T-6, SNJ, or Harvard.
C-47 "Whiskey 7"
One of the aircraft that took part in the D-Day invasion was "Whiskey 7," a Douglas C-47. She flew as the lead ship for the second wave troop carrier airborne invasion force and dropped troops from the 3rd Battalion, 505th Para Infantry Regiment, 82nd Airborne Division.  Descending on Drop Zone "O" near the village of St. Mere Eglise, they were one of only a few units that were actually dropped on their assigned drop-zone, liberating the French village of St. Mere Eglise. Whiskey 7 flew throughout the war and also participated in the famous "Market Garden" operation towing gliders.
Please join us for a flight into history aboard "Whiskey 7" Take your seat and experience first-hand what it may have been like to be a paratrooper flying over Normandy on the lead plane in the second wave on June 6, 1944.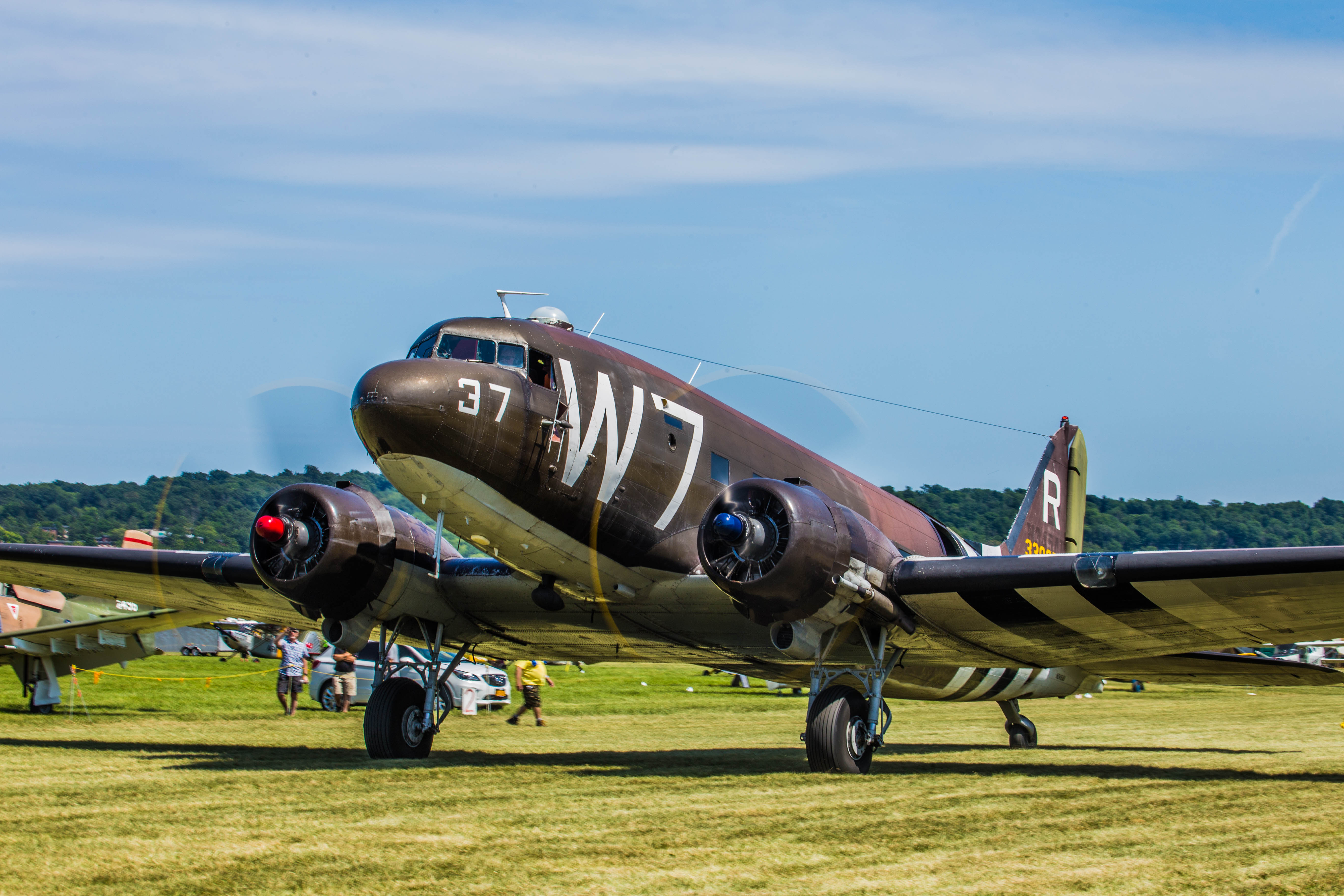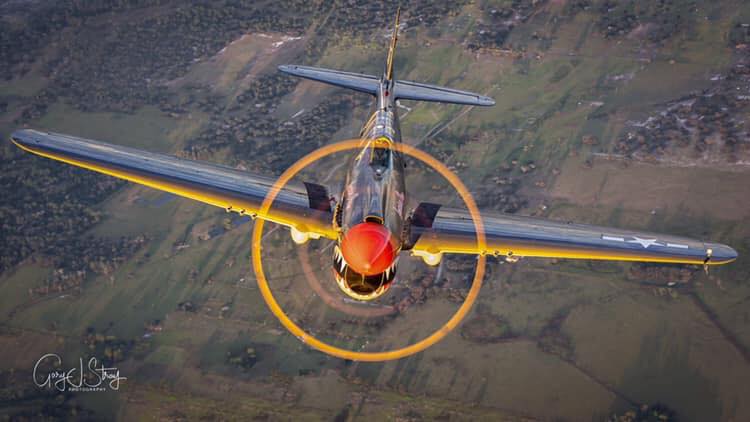 Thom Richard
and
"American Dream"
Warbird Adventures, Inc. and owner Thom Richard, have added the fully dual controlled, dual cockpit, Curtiss TP-40N Warhawk, 'American Dream' to their Warbird fleet.
If your dream has always been to fly an iconic WWII fighter, here's your opportunity to check that box. In addition to formal checkout training, introductory flights are available. There are only five TP-40's known in existence today, and 'American Dream' is the only TP-40 in the world offering dual instruction on a commercial basis to the general public.
Manfred Radius
Manfred performs his day and night acts in a fully aerobatic sailplane. The spectators delight in the change in pace and contrast to the other acts his graceful and elegant performances bring.

Manfred Radius is a top professional air show performer who ushered in a new era in sailplane demonstrations. He has the distinction of having introduced world championship-level sailplane performances to air shows in North America.
Manfred Radius began his career in flying sailplanes in 1961 at age 17 in Hamburg, Germany. He has logged in excess of 5,000 flights and accumulated over 2,000 hours in at least 60 types of sailplanes.Manfred immigrated to Canada in 1969 and became a gliding instructor in 1972, adding the glider aerobatic instructor's endorsement in 1977.